[course_description style="1″ icon="1.png" icon_folder="feature_block" image="" title="" content="PHA+VGhpcyBwcm9jZXNzIHRlbGxzIGhvdyB0byBtYXJrZXQgdGhlIEJlc3QgQnVzaW5lc3MgUG9kY2FzdCBpbiBGYWNlYm9vayBHcm91cHMuIFRoaXMgaXMgaW1wb3J0YW50IGJlY2F1c2UgeW91IHdpbGwgbmVlZCB0byBsZWFybiBob3cgdG8gaGFuZGxlIGRpZmZlcmVudCBzY2VuYXJpb3MuPC9wPgo="][/course_description]
You can watch the Video for How to Market Best Business Podcast in Facebook Groups Below.
https://www.youtube.com/watch?v=THUcFWxXqtA
[content_toggle style="1″ label="Login%20to%20Facebook" hide_label="Hide"]
After logging into Facebook, on the left side of the page go to where it says "groups" and click on "more".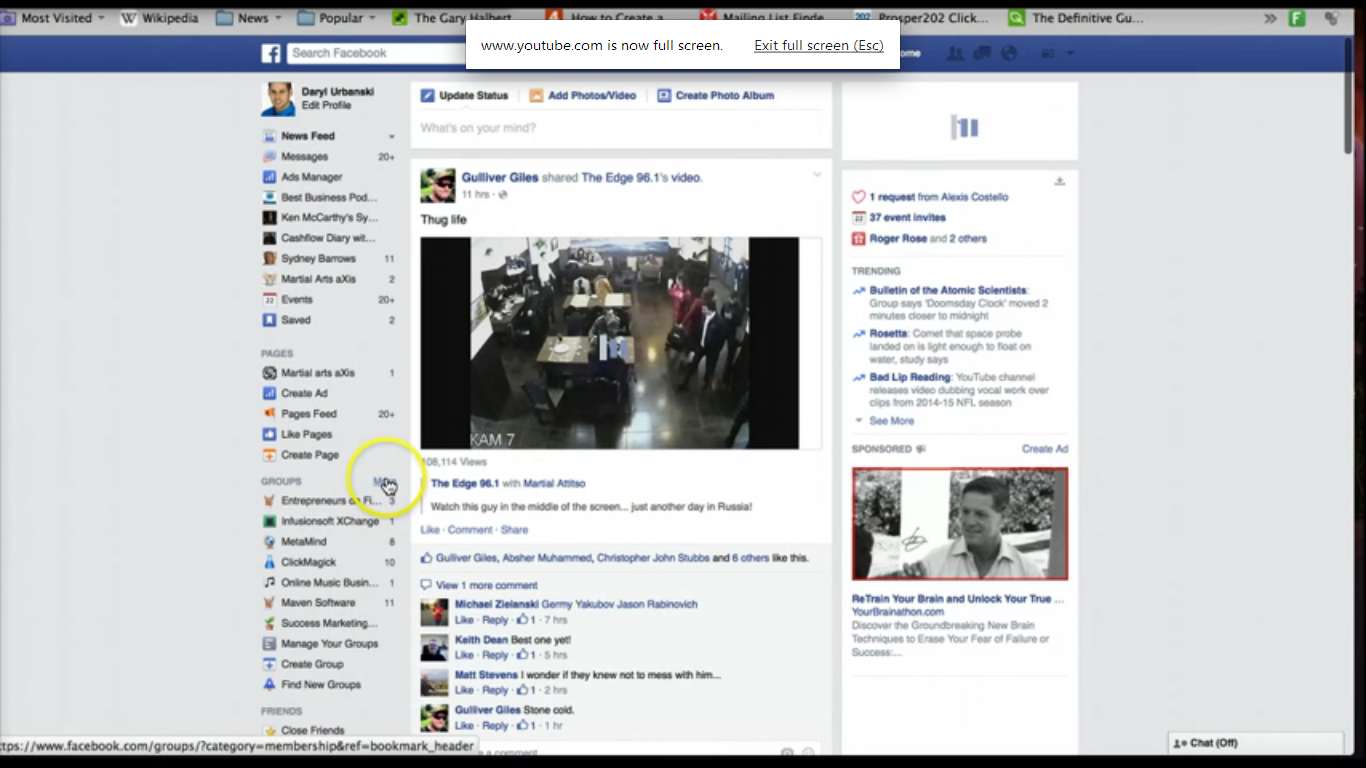 Once you get to the page with all the groups, scroll down until you get to the very bottom of the page. This will take a while since there are a lot of groups, which is good, because that means there are a lot of people that we can reach to promote the BBP. Although this is good, it is still important to be mindful of how we approach other pages because we don't want to offend anyone.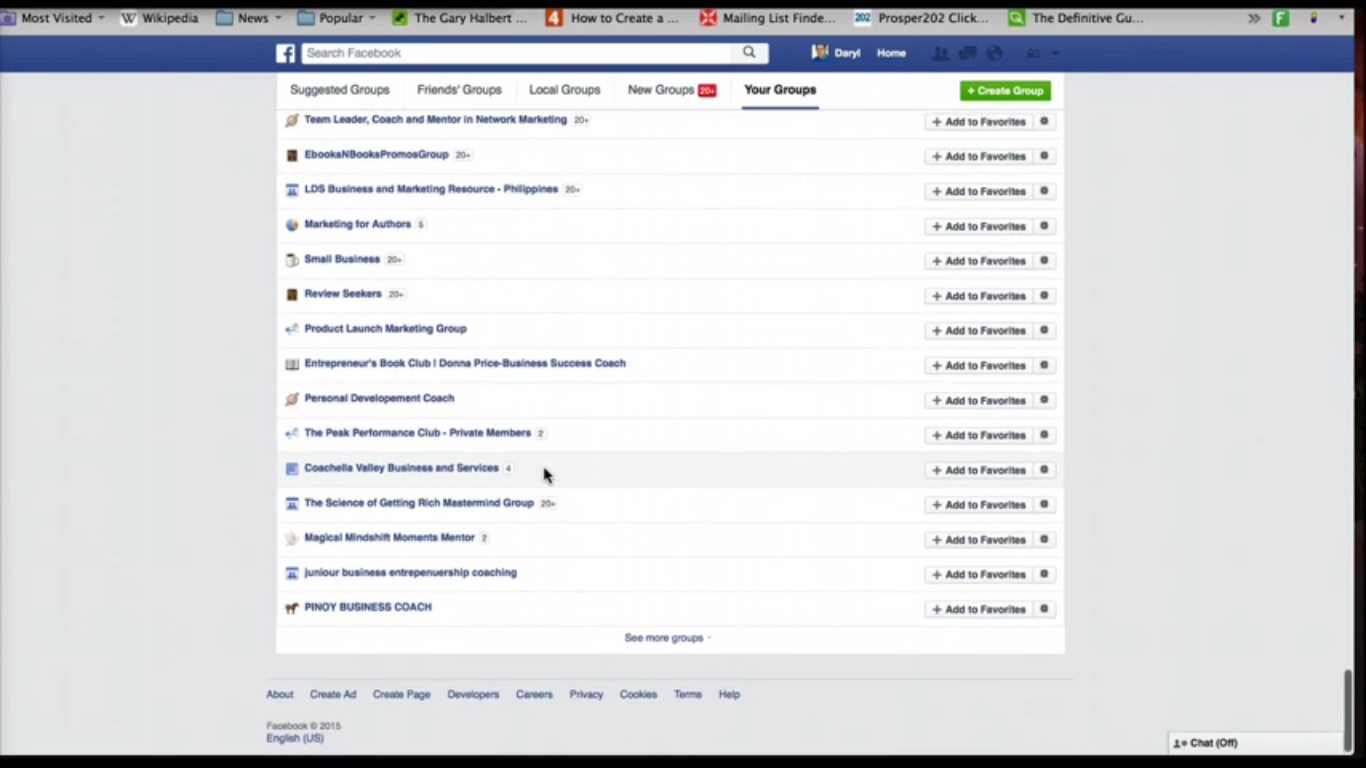 Once you finally reach the bottom of the page, you will start from the bottom and find pages that relate to the BBPodcast, so any pages that are business related, business owners, entrepreneurship and marketing.
[/content_toggle] [content_toggle style="1″ label="The%20Different%20Ads" hide_label="Hide"]
Different Groups get different Ads. There are ads for:
1) Generic Groups
2) Internet Marketing Group
3) Groups that I have not befriended on FB (If you are friends with someone, it is something you will have to do manually)
You can see the general ads for each group below: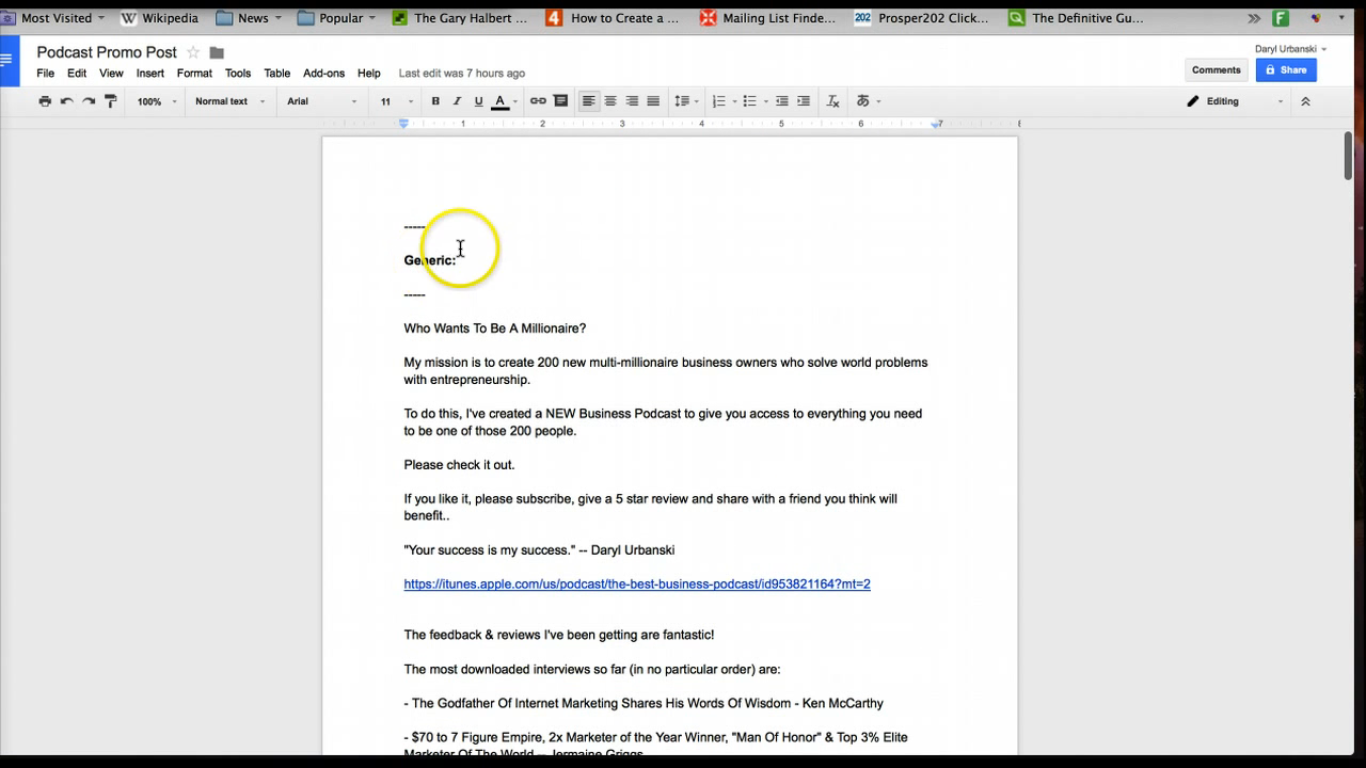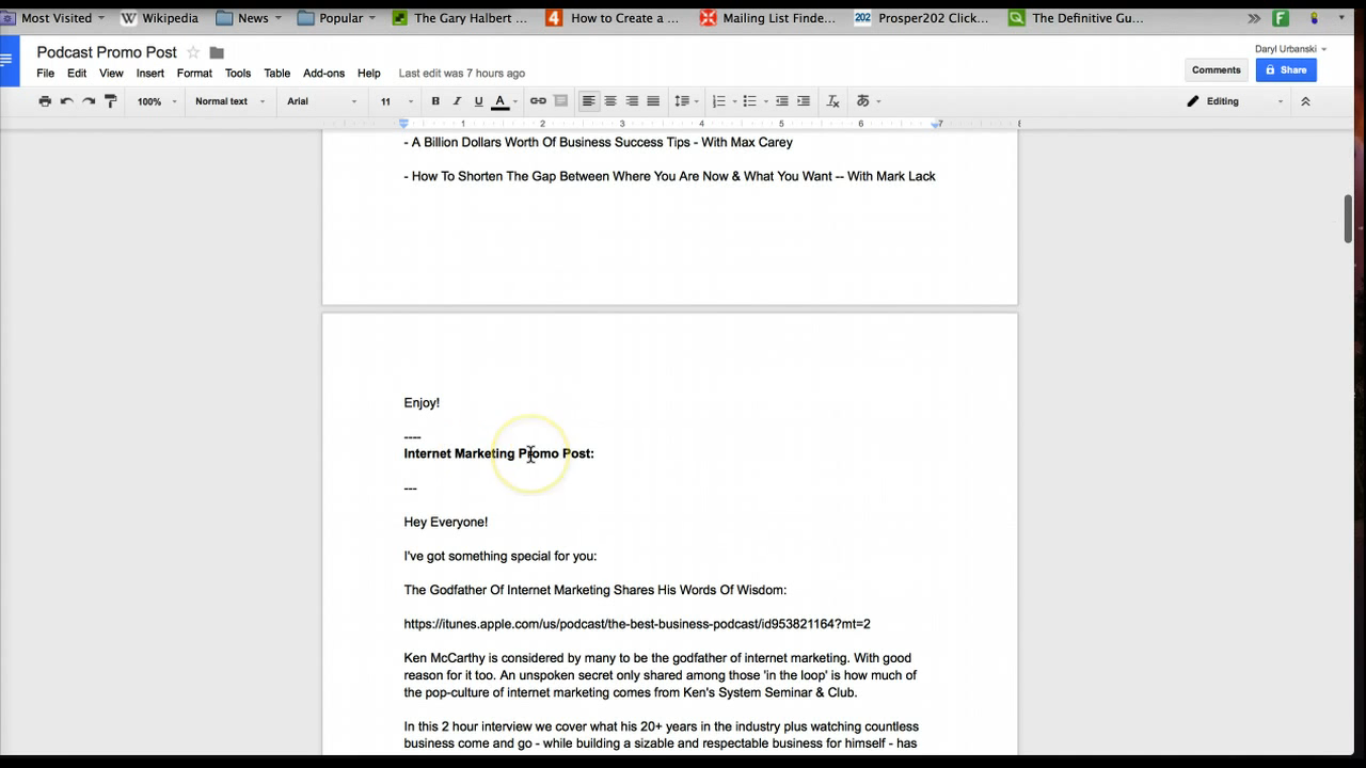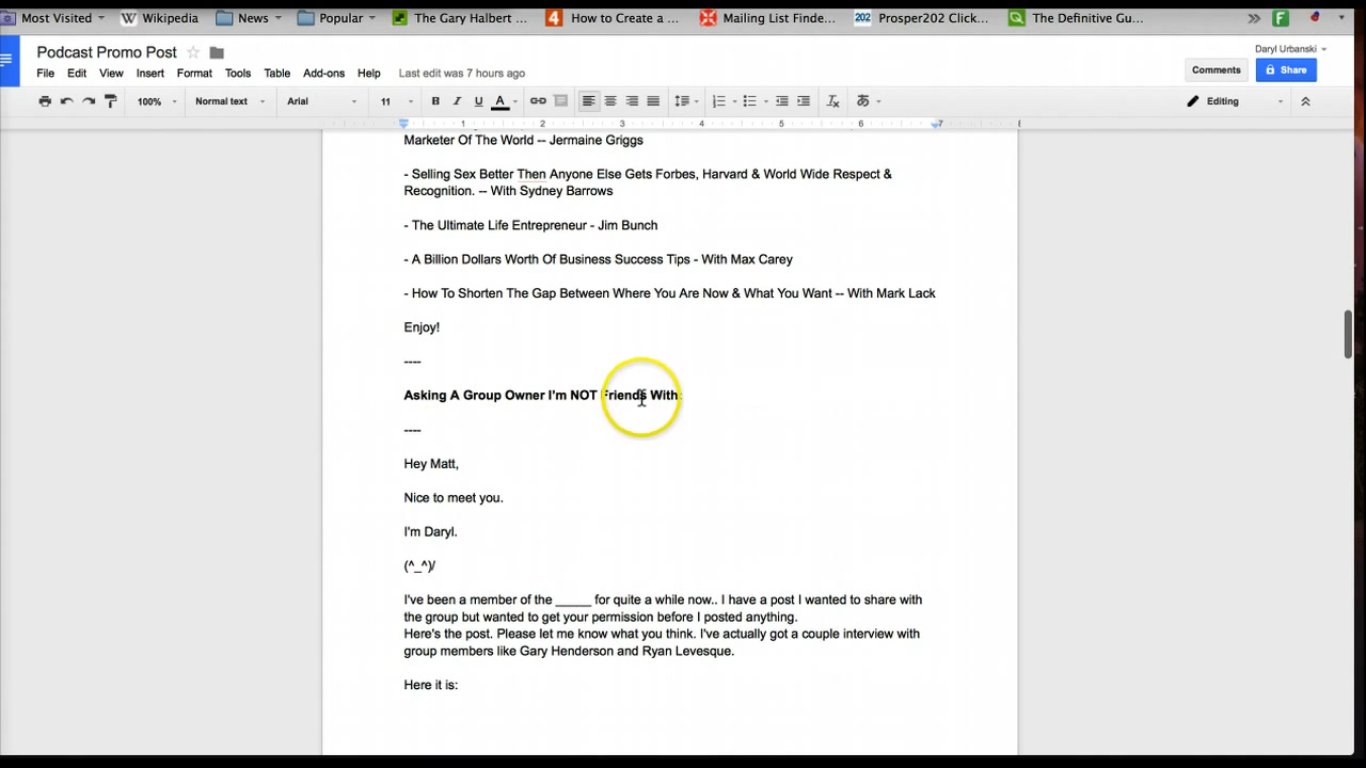 [/content_toggle] [content_toggle style="1″ label="Check%20Permission" hide_label="Hide"]
Once you find a group that you want to inform about the BBP, click on it and look at the comments on the right hand side, get information about the page and to see if we are allowed to post here. In this particular example shown in the screenshots, on the right side we can see that we are allowed to leave offers, which is good.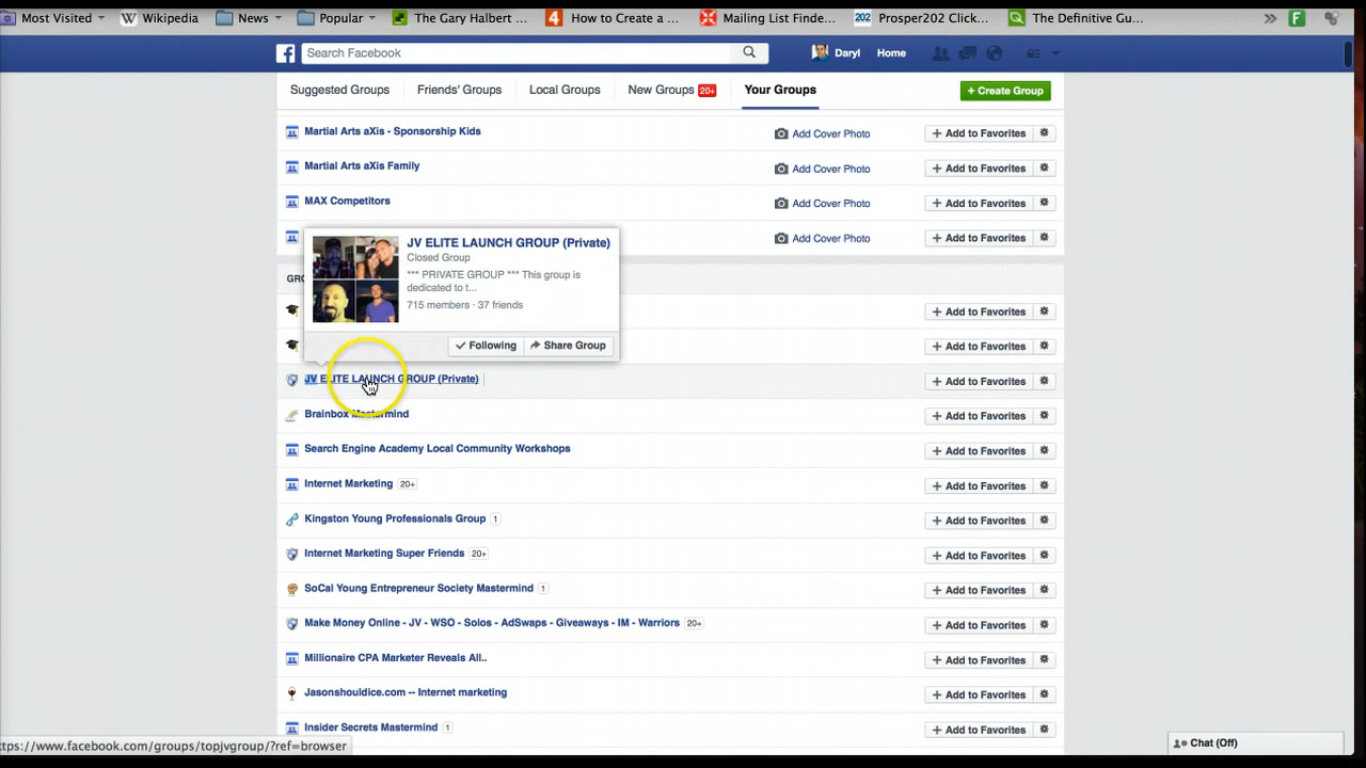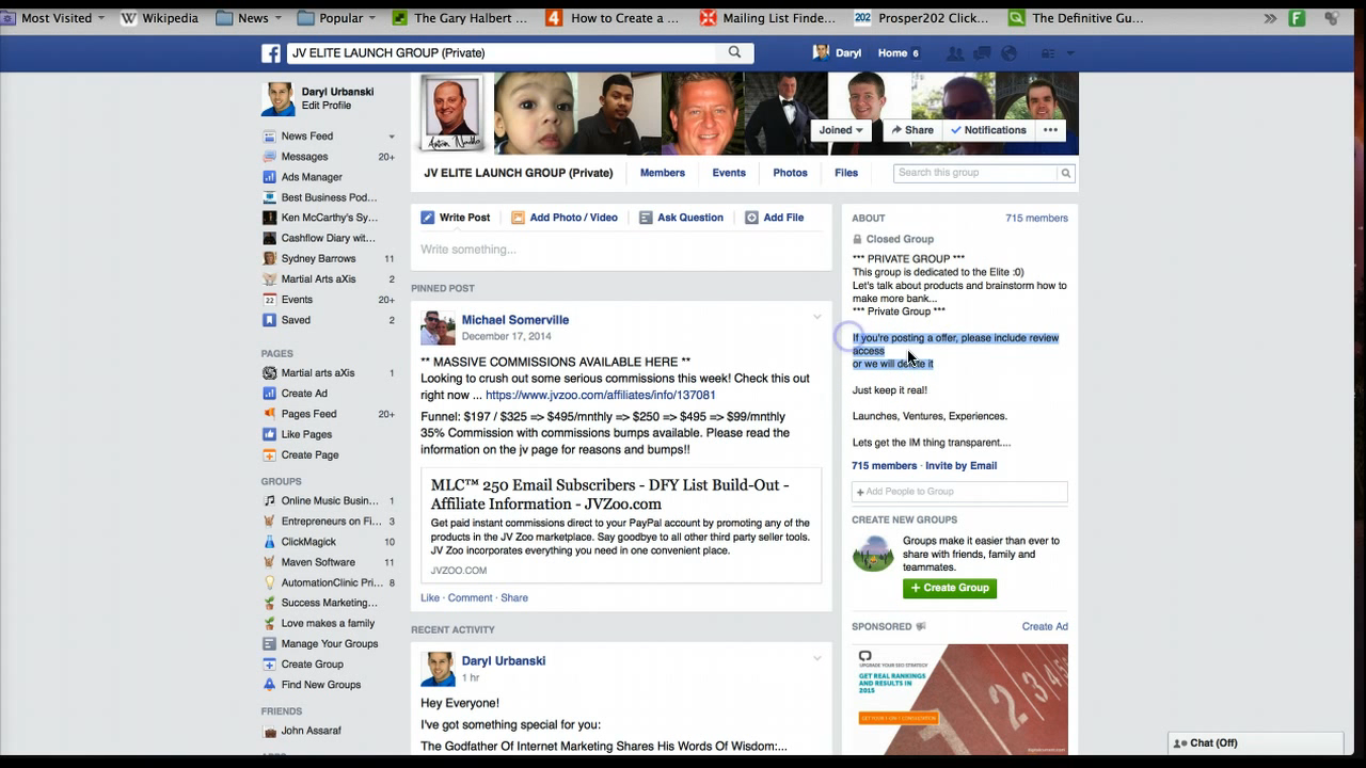 Next, you will want to check the members to see how many we are friends with to see if any have been on the podcast or if we have any interviews with them. The reason to do this is because we want to see if we can mention any of them in the ad that we will post on the member page.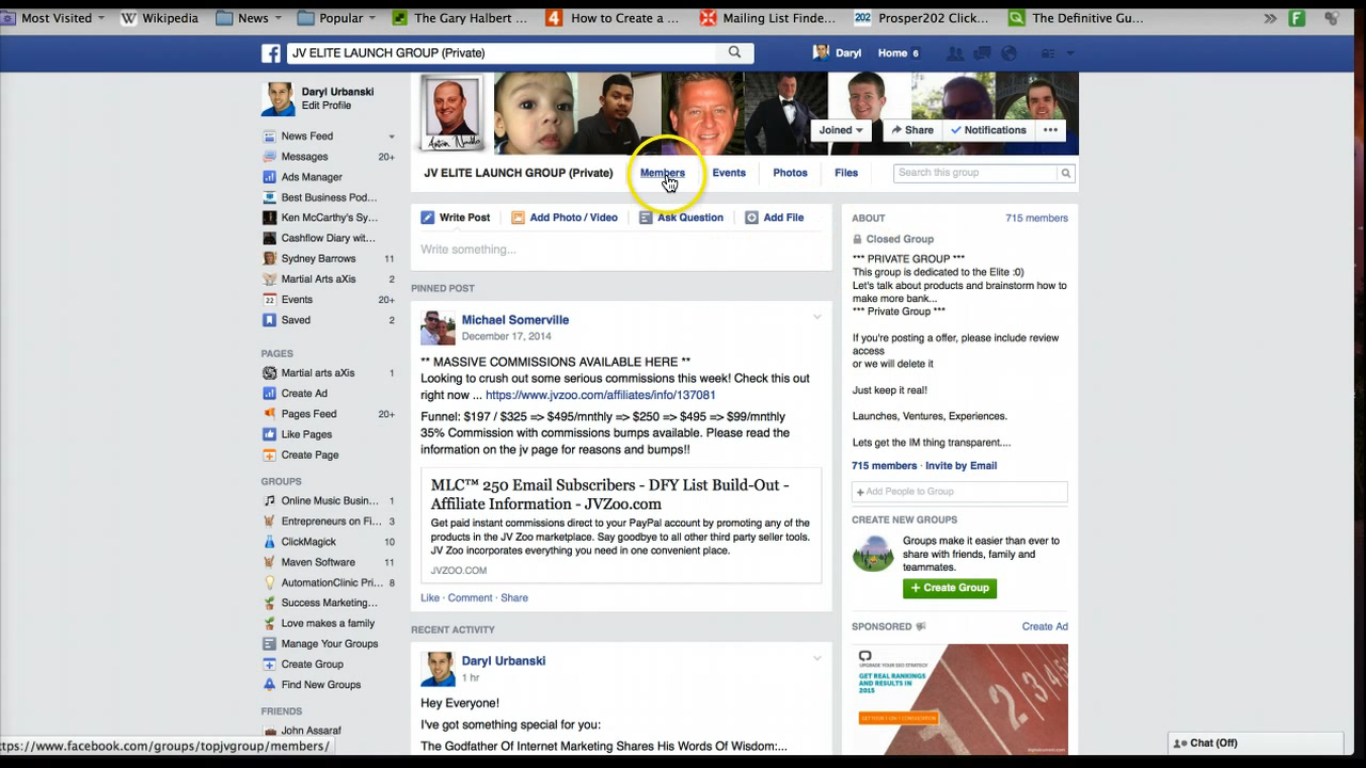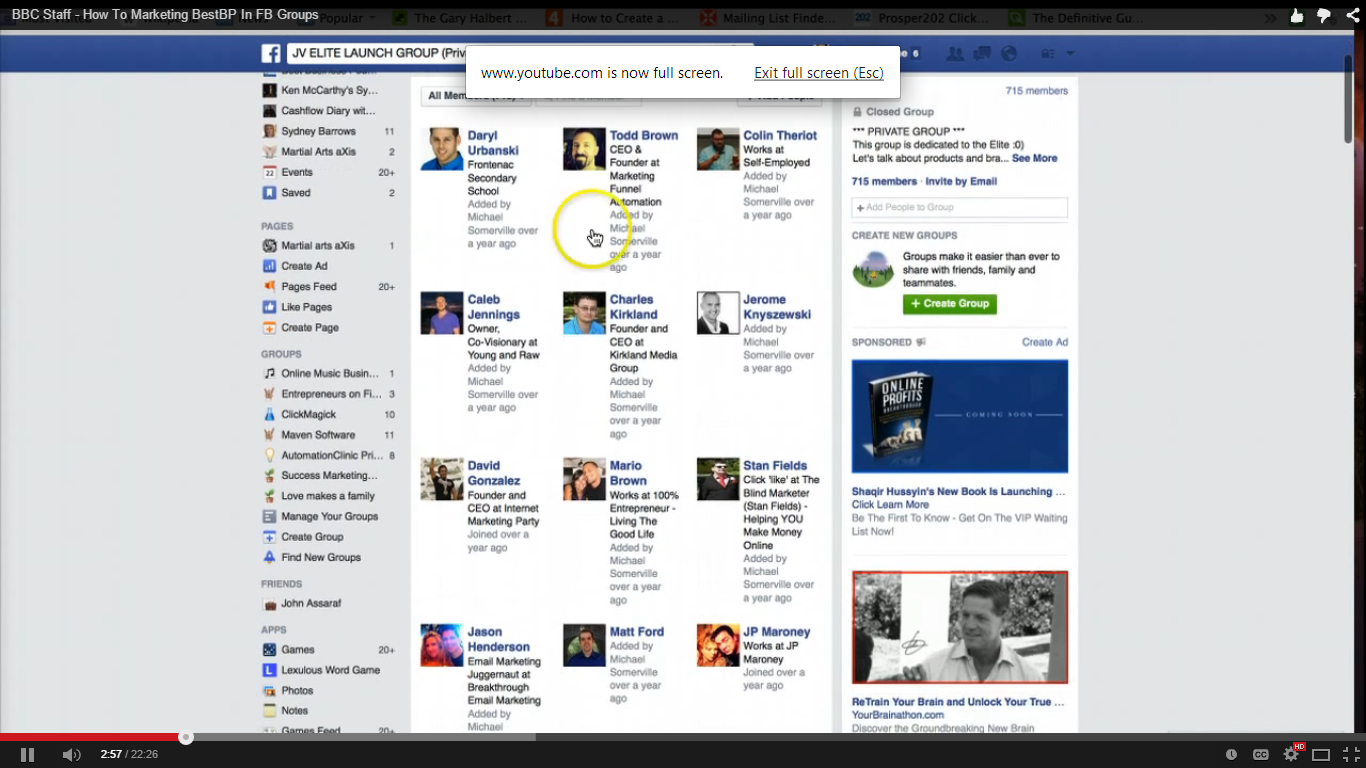 Next, check the admin page for the same thing.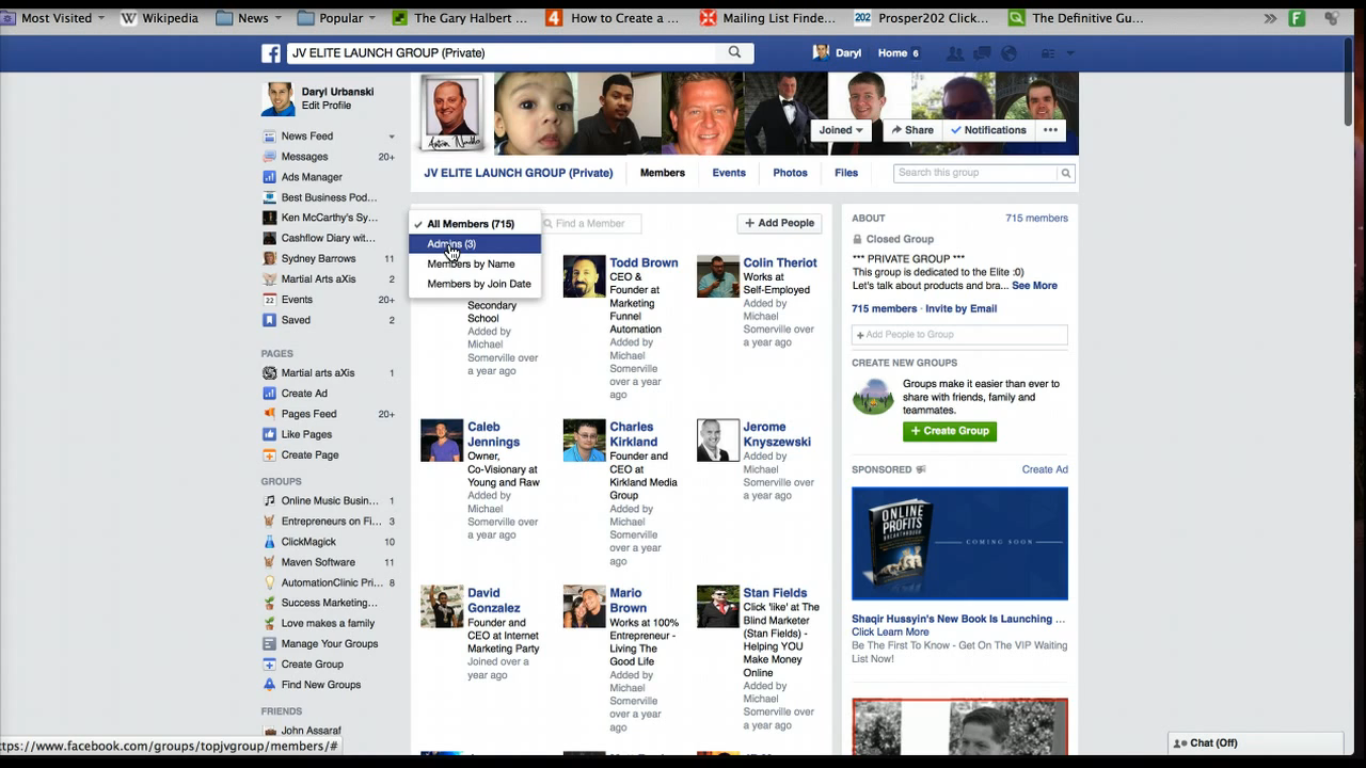 After doing this, move on to the next step.
[/content_toggle] [content_toggle style="1″ label="Posting%20the%20Ad" hide_label="Hide"]
Now you should be ready to post the ad, after figuring out what kind of group it is (refer to step 2). This particular group is an internet marketing group so we will copy the internet marketing ad. Copy from where it says "Hey Everyone" to "Enjoy". Paste it onto the page.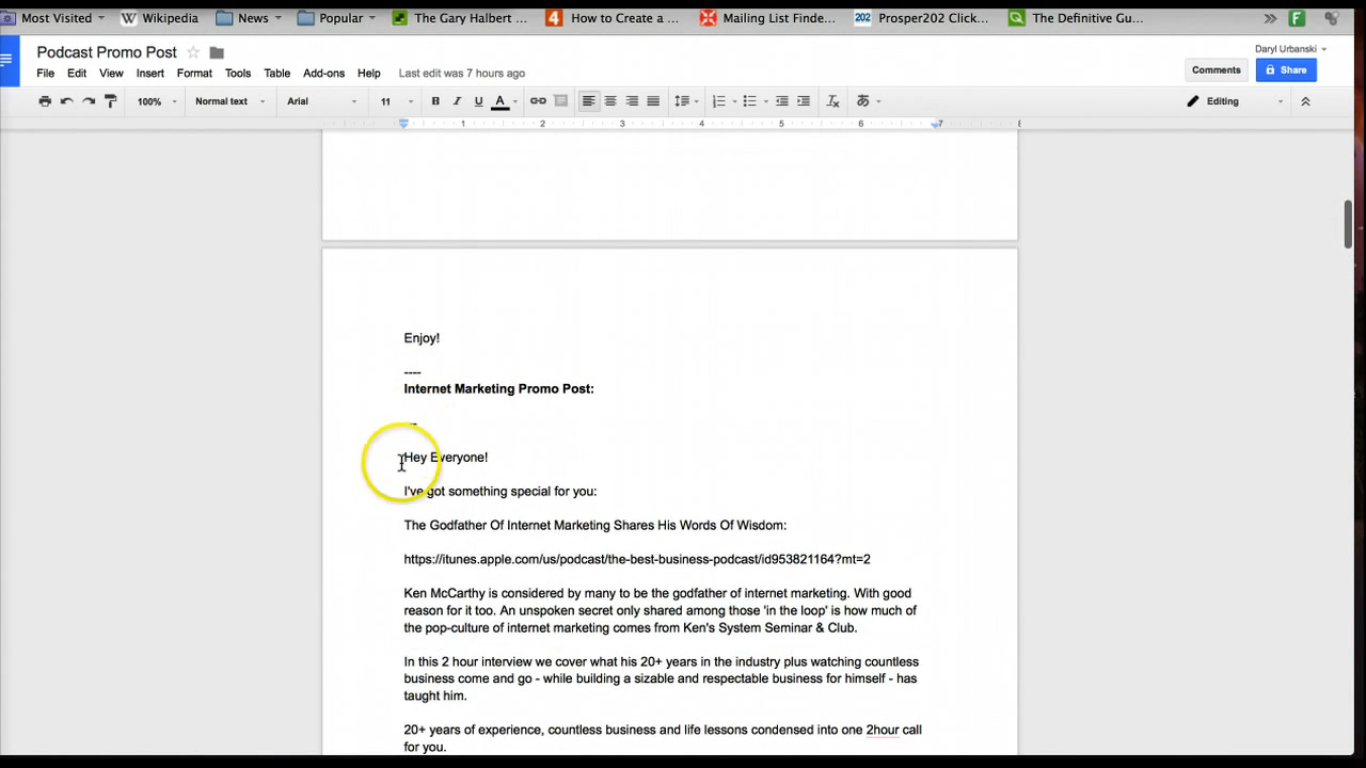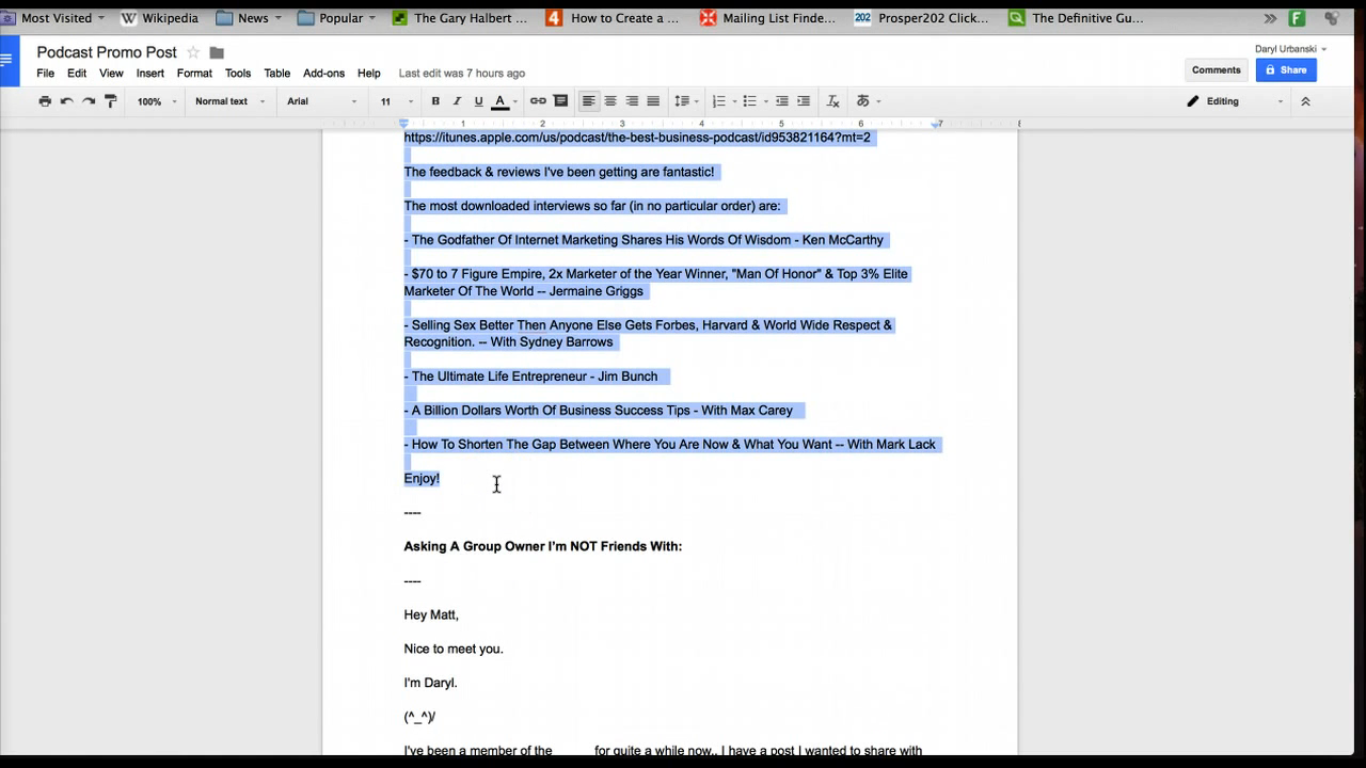 After pasting it, copy the part that is highlighted in the first screenshot below where it starts off as saying "If you like it…will benefit…"  and paste that next to the BBP logo as seen in the second screenshot below. Look at everyone mentioned in the post, if any one of them are friends or members of the group, be sure to tag them; in this example, that does not apply. Now, click Post.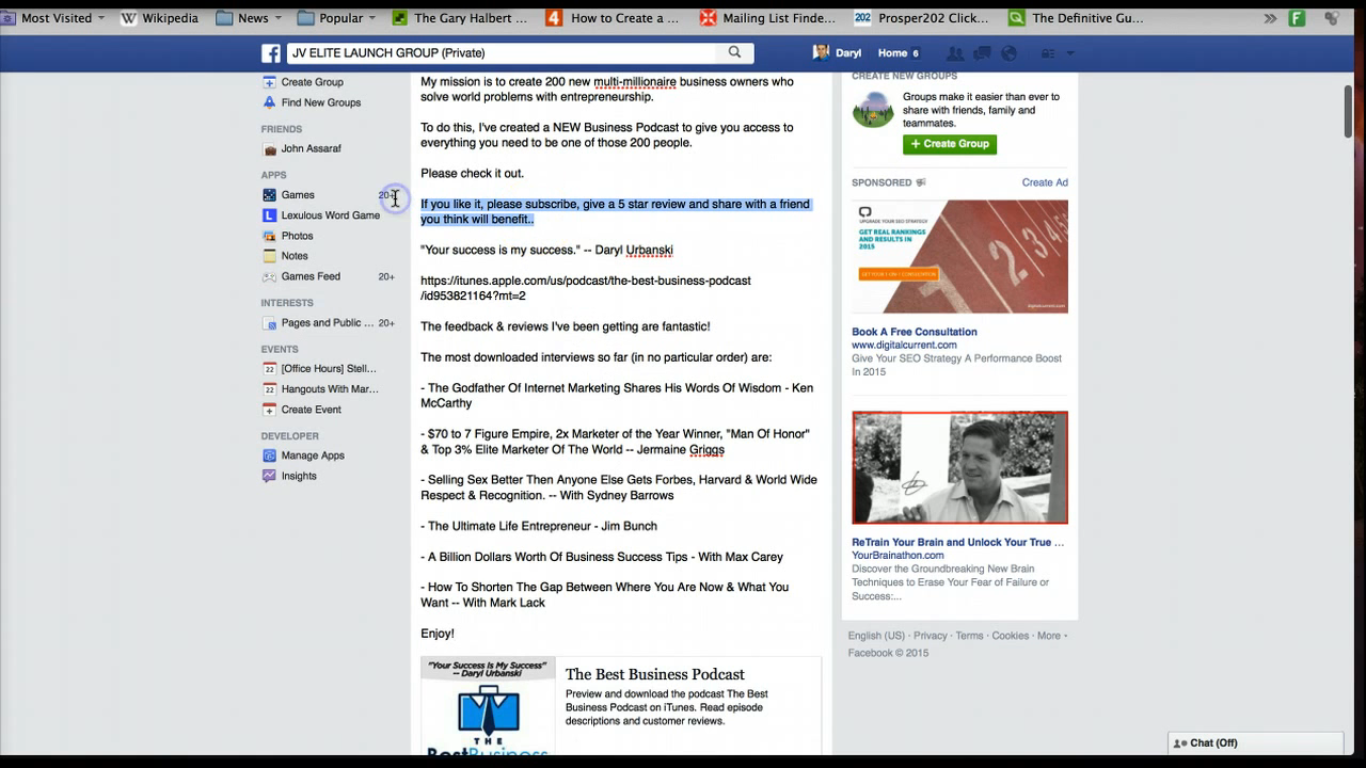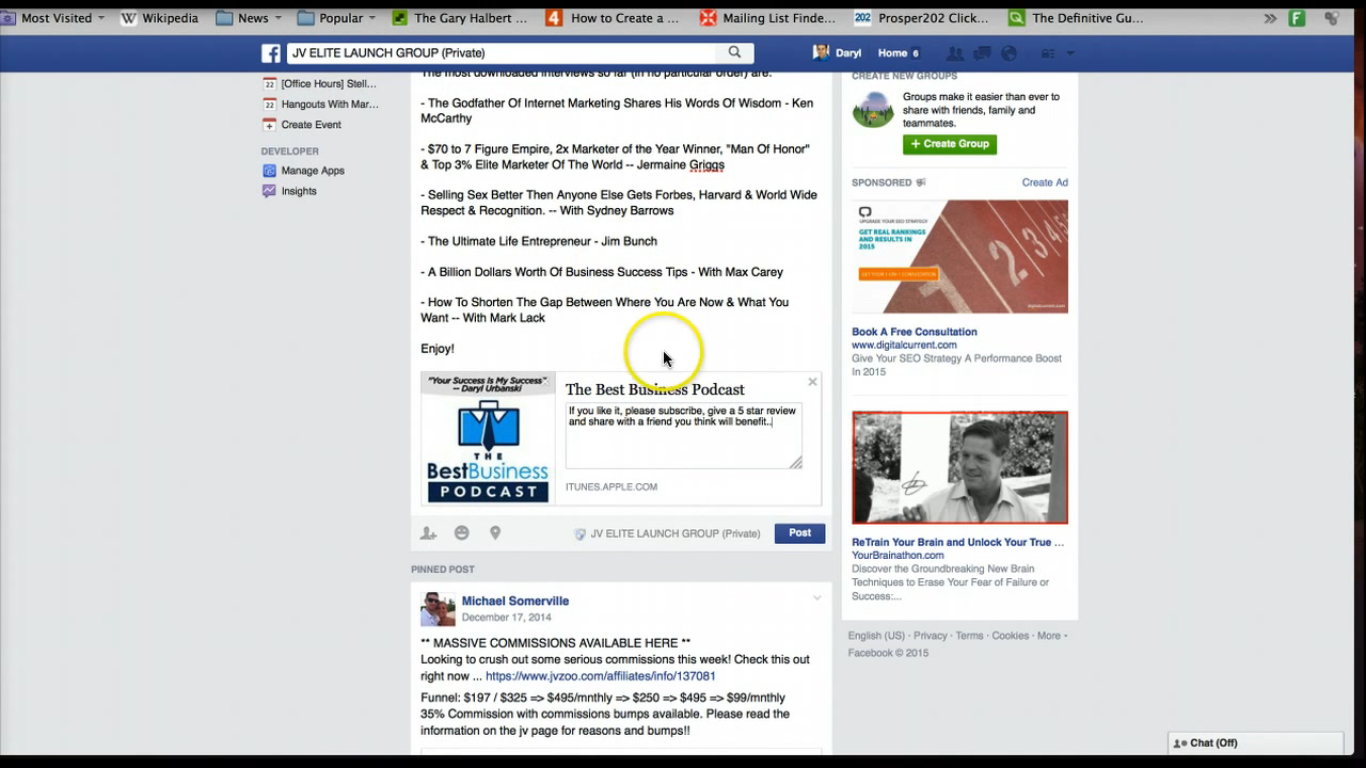 [/content_toggle] [content_toggle style="1″ label="Example%20%232″ hide_label="Hide"]
In this page we can see that a lot of people are asking questions and not really posting links to their own pages, so it does not look like a group that would be receptive to an ad about BBP: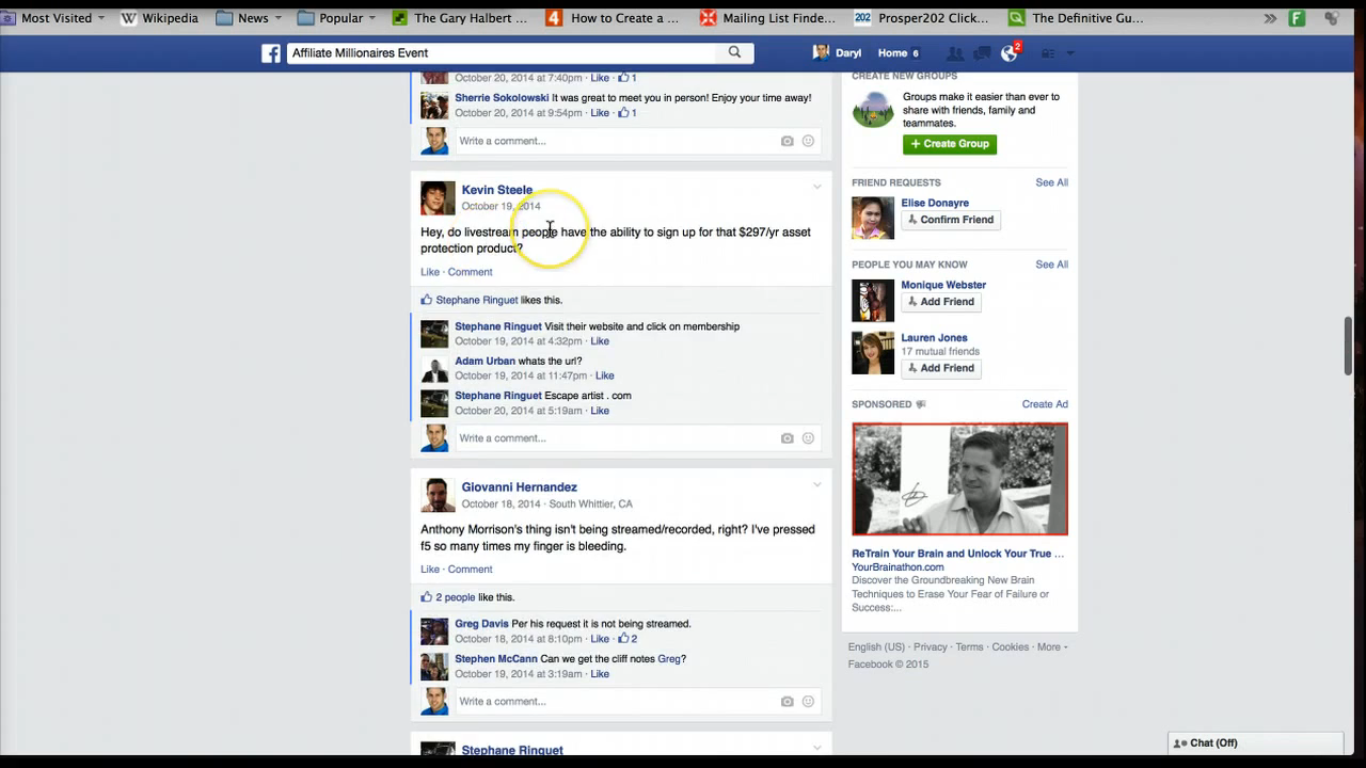 If we look at the information on the right hand side of the page About the group, we can see that it is mostly about things relating to the Affiliate Millionaires event: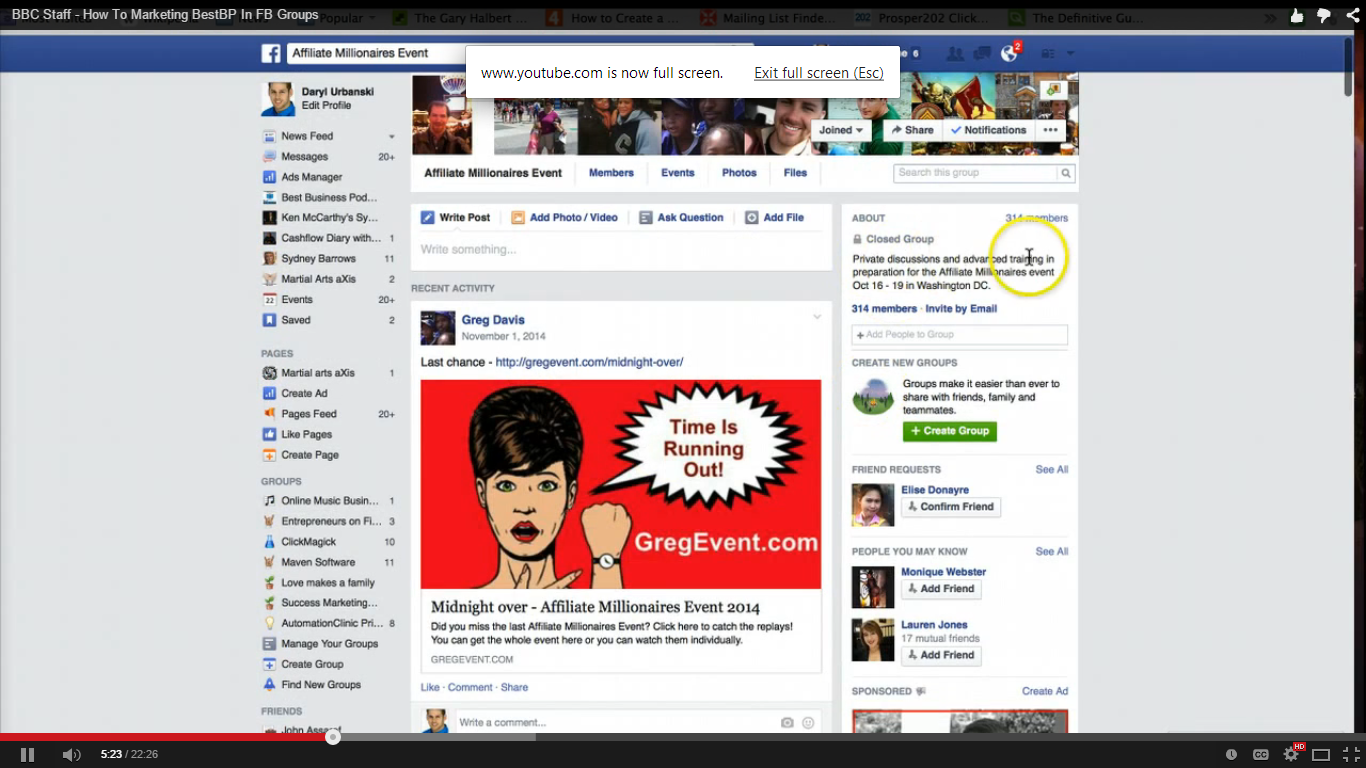 Looking at the members page and the admin page, there is no one we have interviewed so it would be ideal to ask one of the admins if it is okay to post something because no one else is doing it and it does not say anywhere on the page that you can do it.
So, if you wanted to ask for permission, there is a template in the Podcast Promo Post that you could copy and paste in a message to one of the admins. You will need to personalize it to fit the group/admin. The line that mentions that there are interviews with people in the group, needs to be deleted if that is NOT true. Delete this line AFTER you copy it into the message! Be sure not to delete this line in the template. Along with this personalized message, be sure to also include the ad that you would post on the page (be sure to personalize this where needed). Remember to change the part where the logo is as well. Now you can send the message. The following screenshots show how to do this: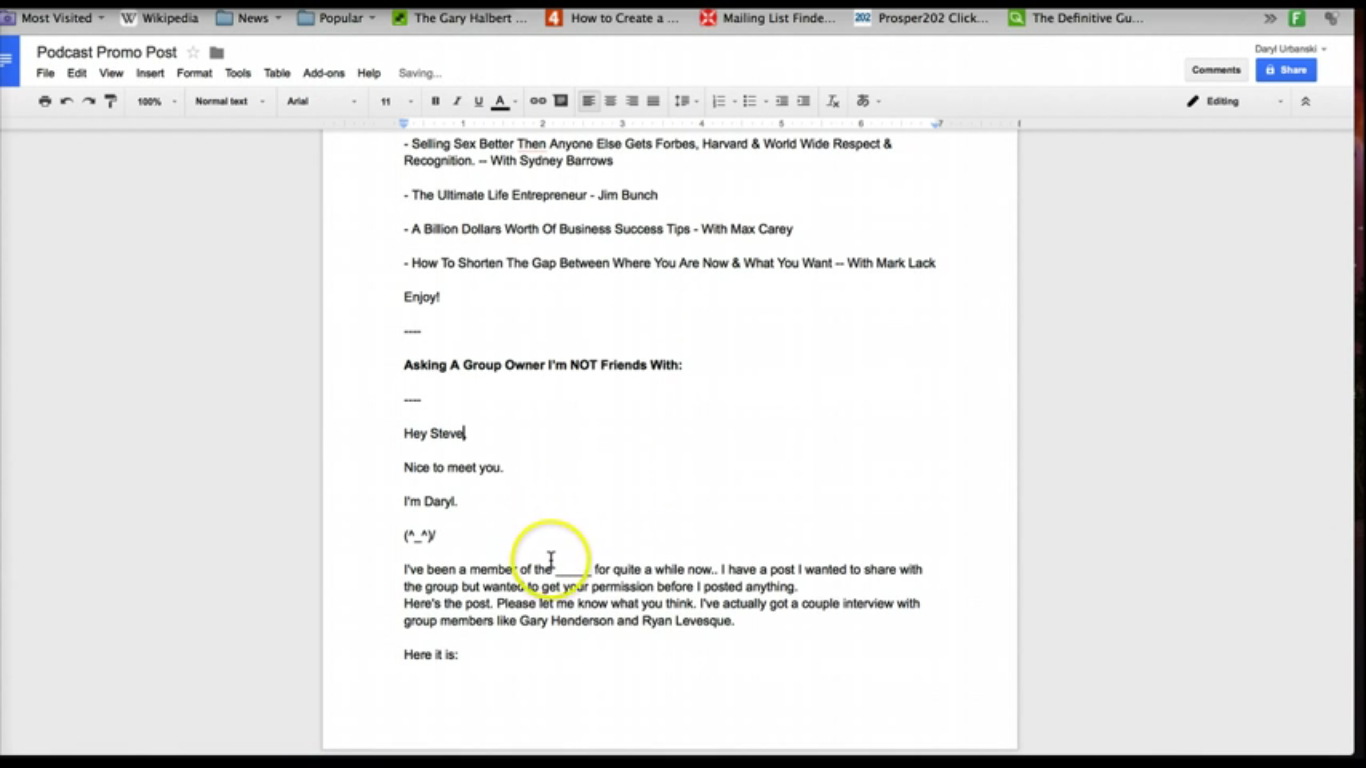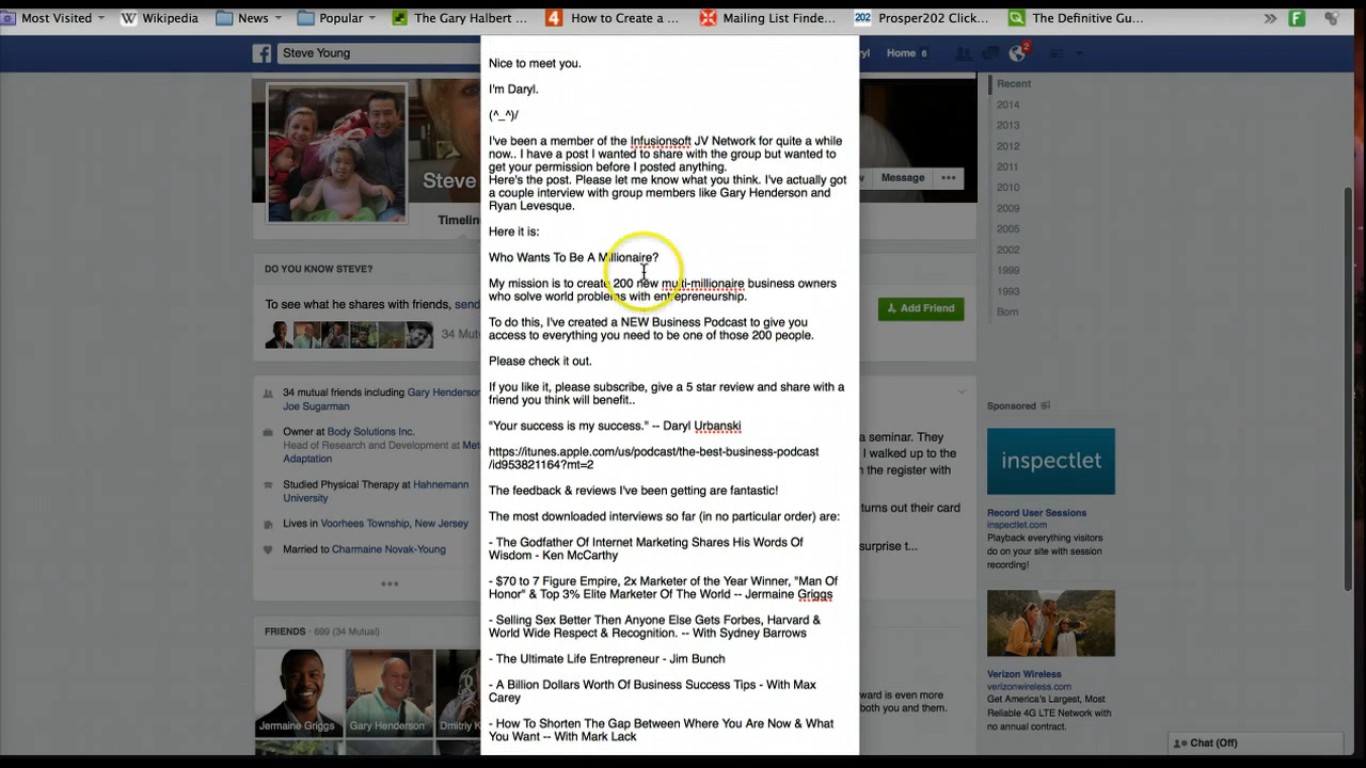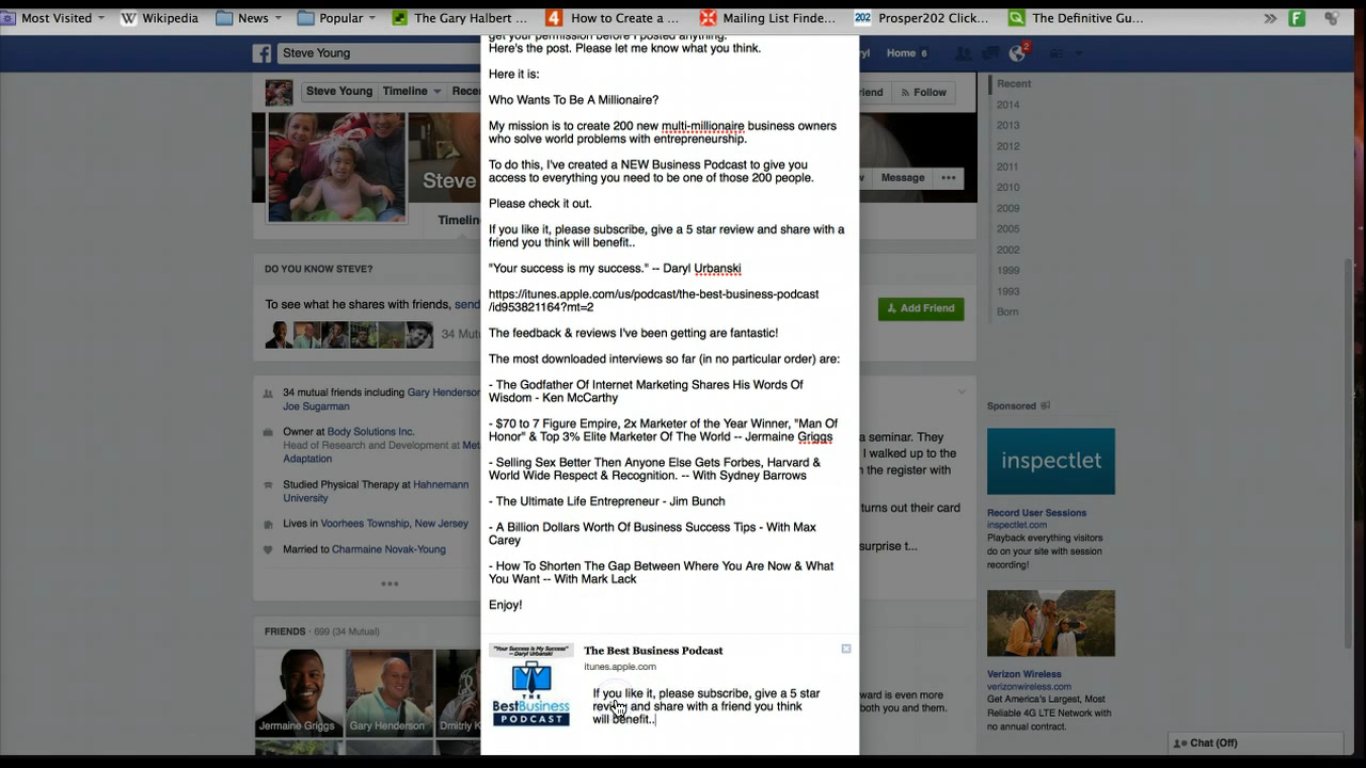 [/content_toggle] [content_toggle style="1″ label="Example%20%233″ hide_label="Hide"]
This is the Infusionsoft JV network page and again on the right we can see there is information about the page and rules. As long as we are a member, we can post, we can offer to help others, etc; we can post information regarding the product/service.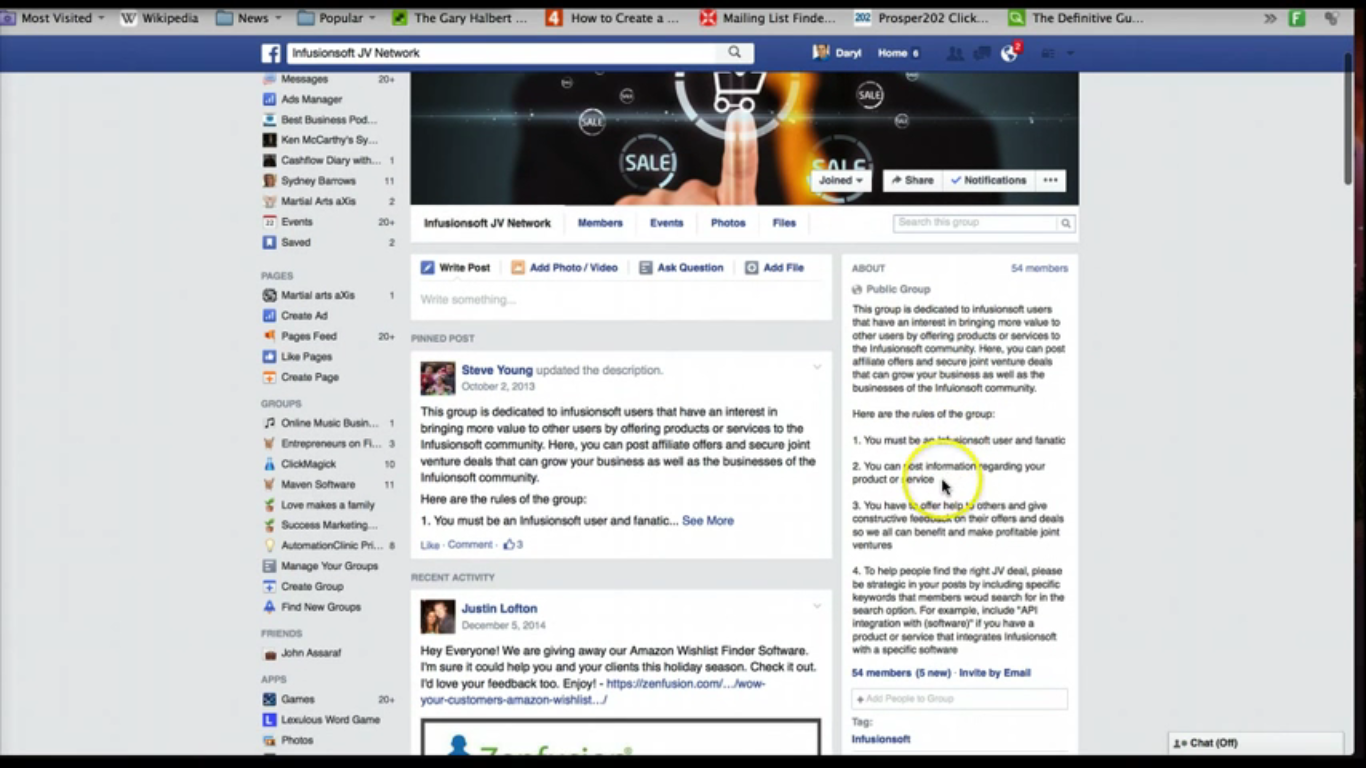 After checking the members/ admin there is no one that  we can tag in the posts. On this page you can post the internet marketing post.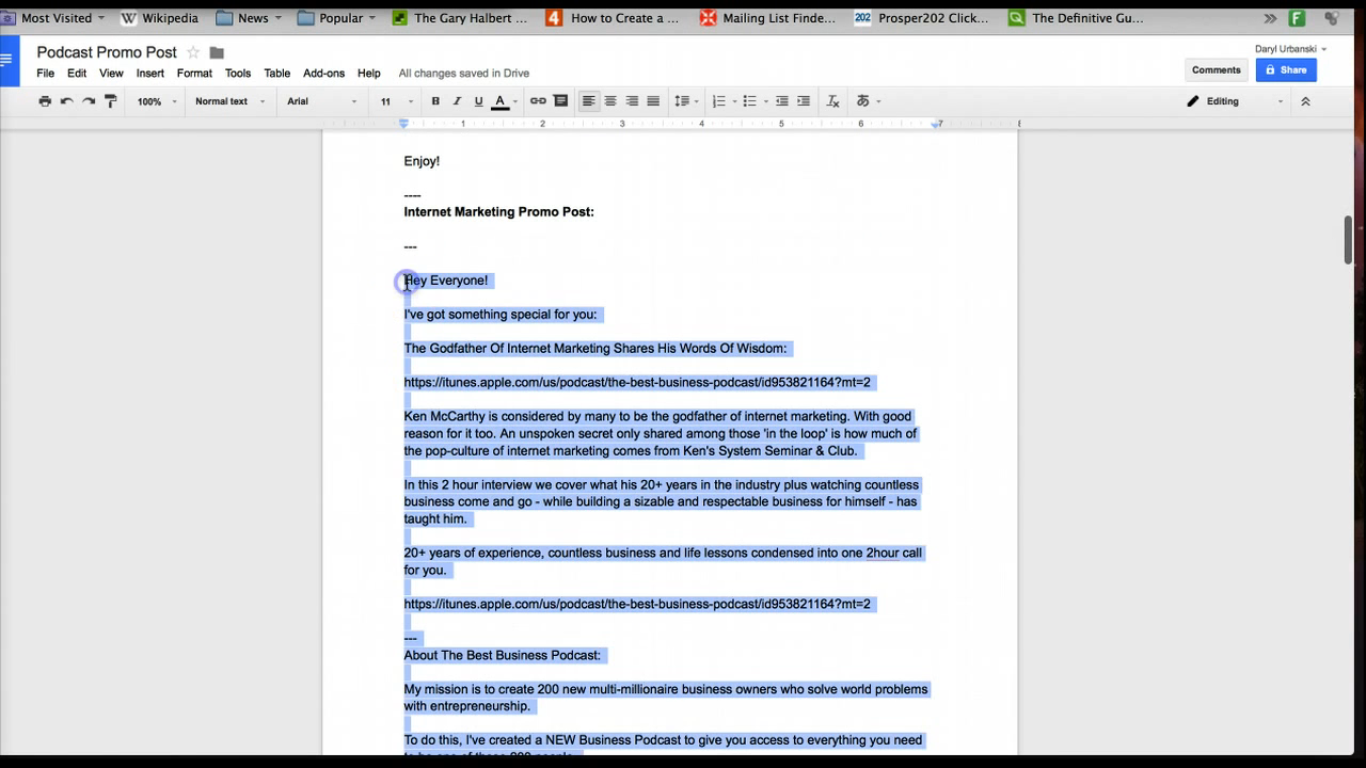 [/content_toggle] [content_toggle style="1″ label="Example%204″ hide_label="Hide"]
In this next example we see the information about the group on the right, as well as a post at the top of the page mentioning spammers.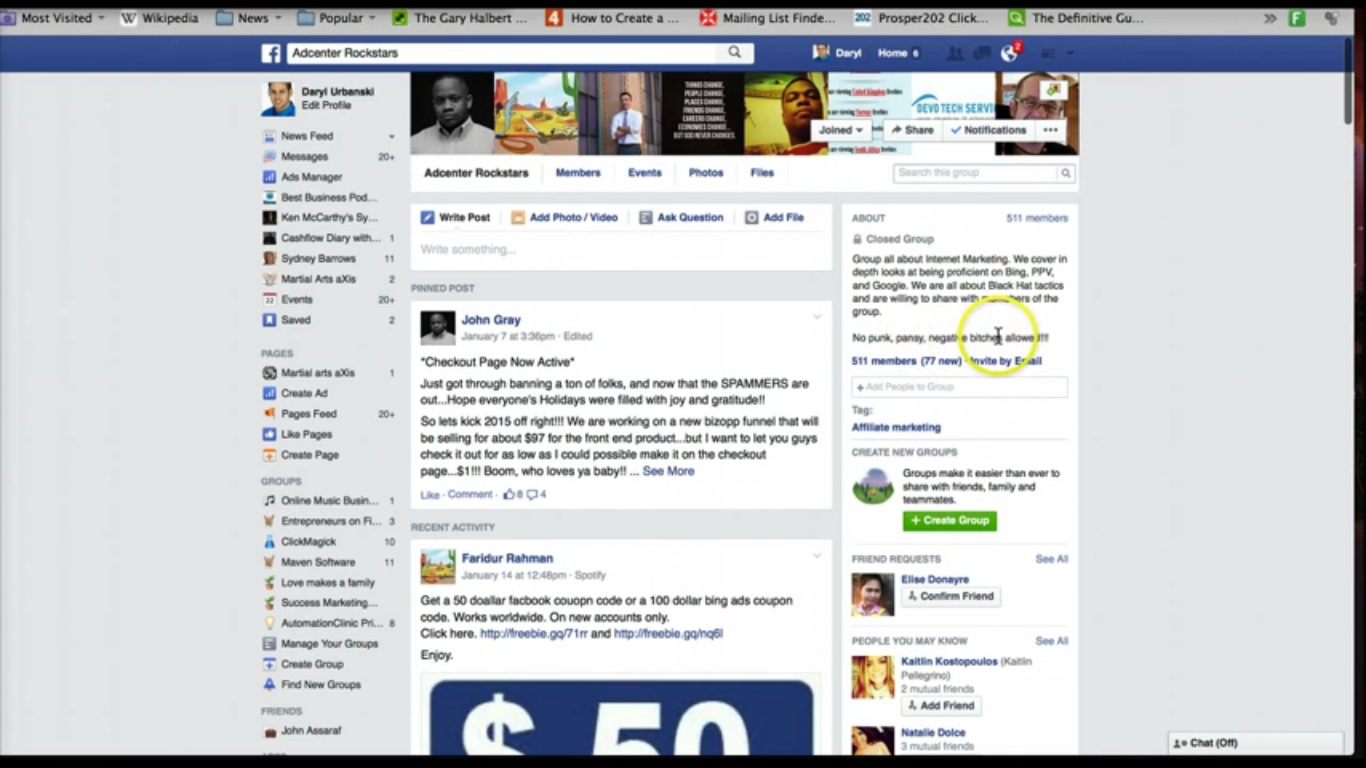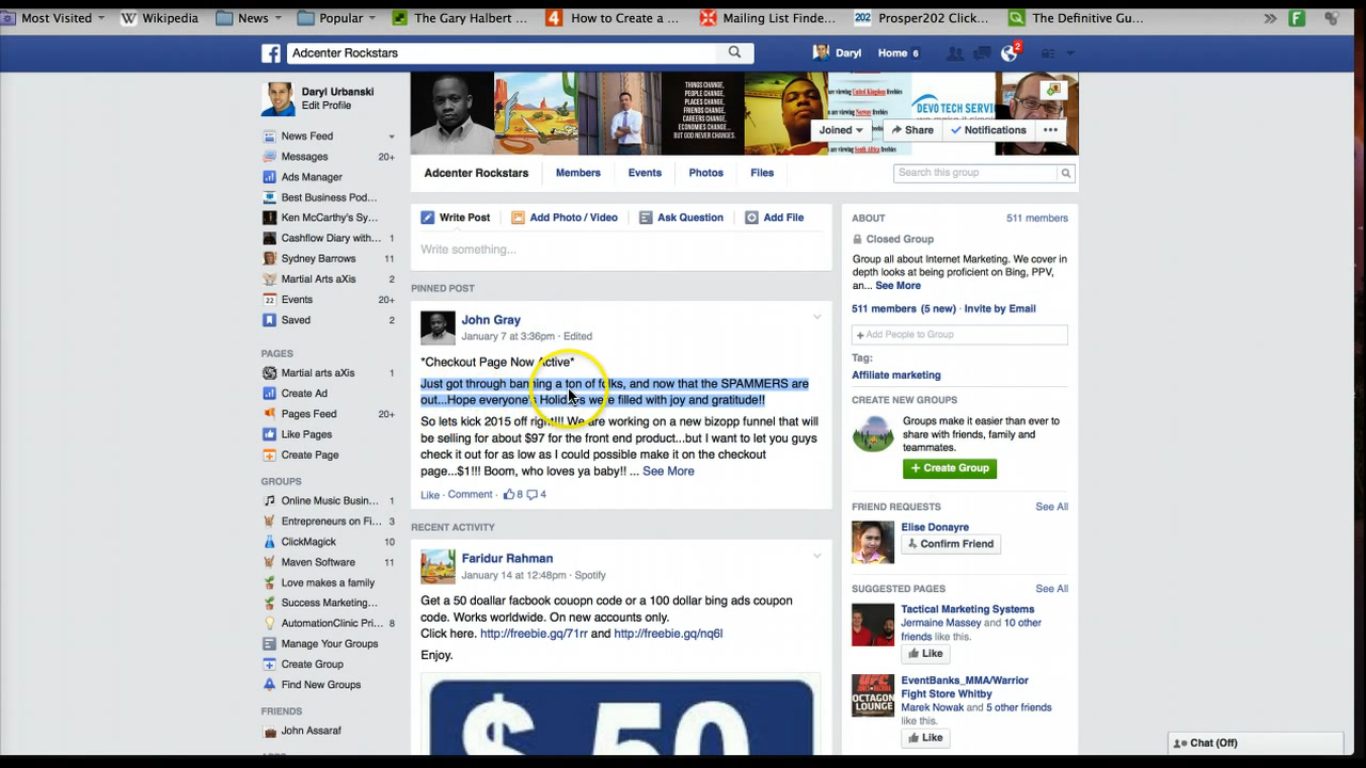 None of the friends on here have been interviewed or anything so this is  a good example of a page where we would need to ask for permission to post here.
We are going to send a message to one of the administrators since we are not friends with him, and we are going to choose the Promo Post for "Internet Marketing Promo post" (shown below). Copy the message and be sure to make the necessary changes so that it fits with this particular group/admin.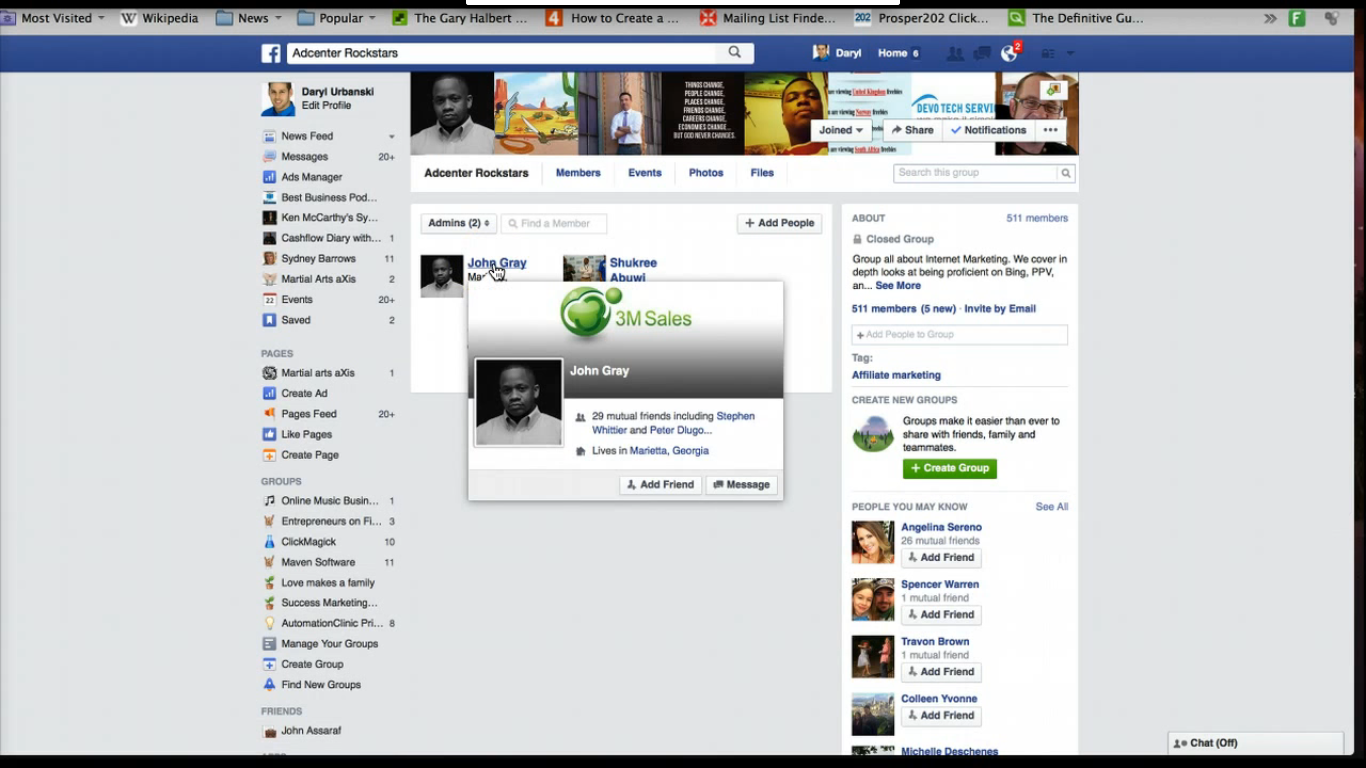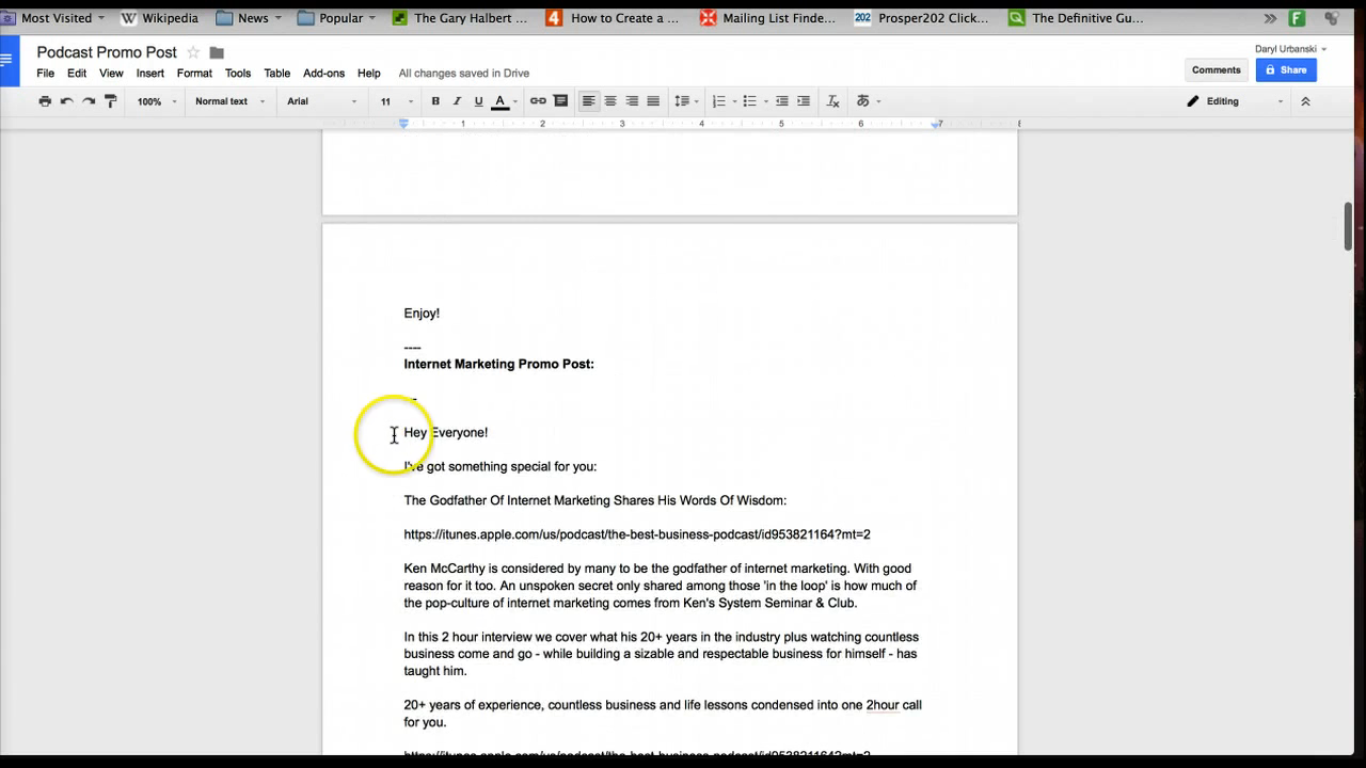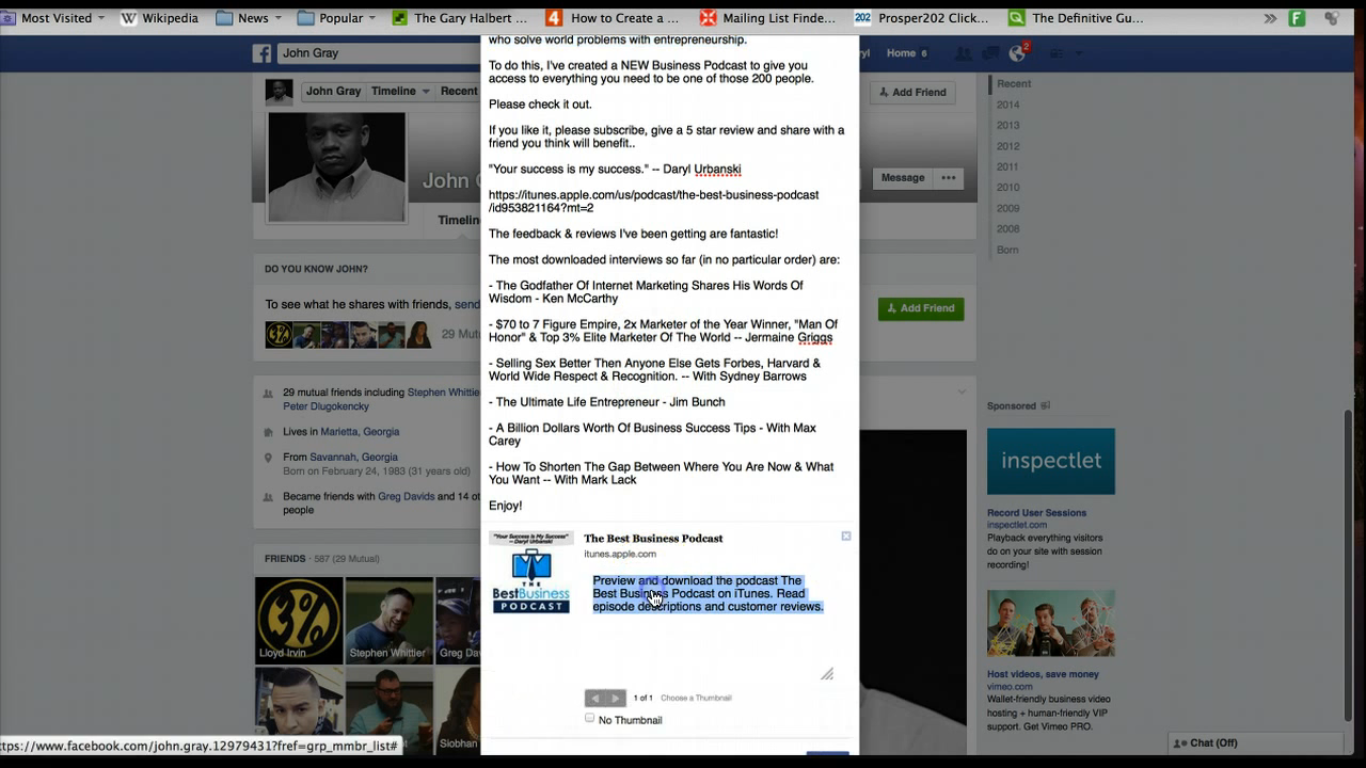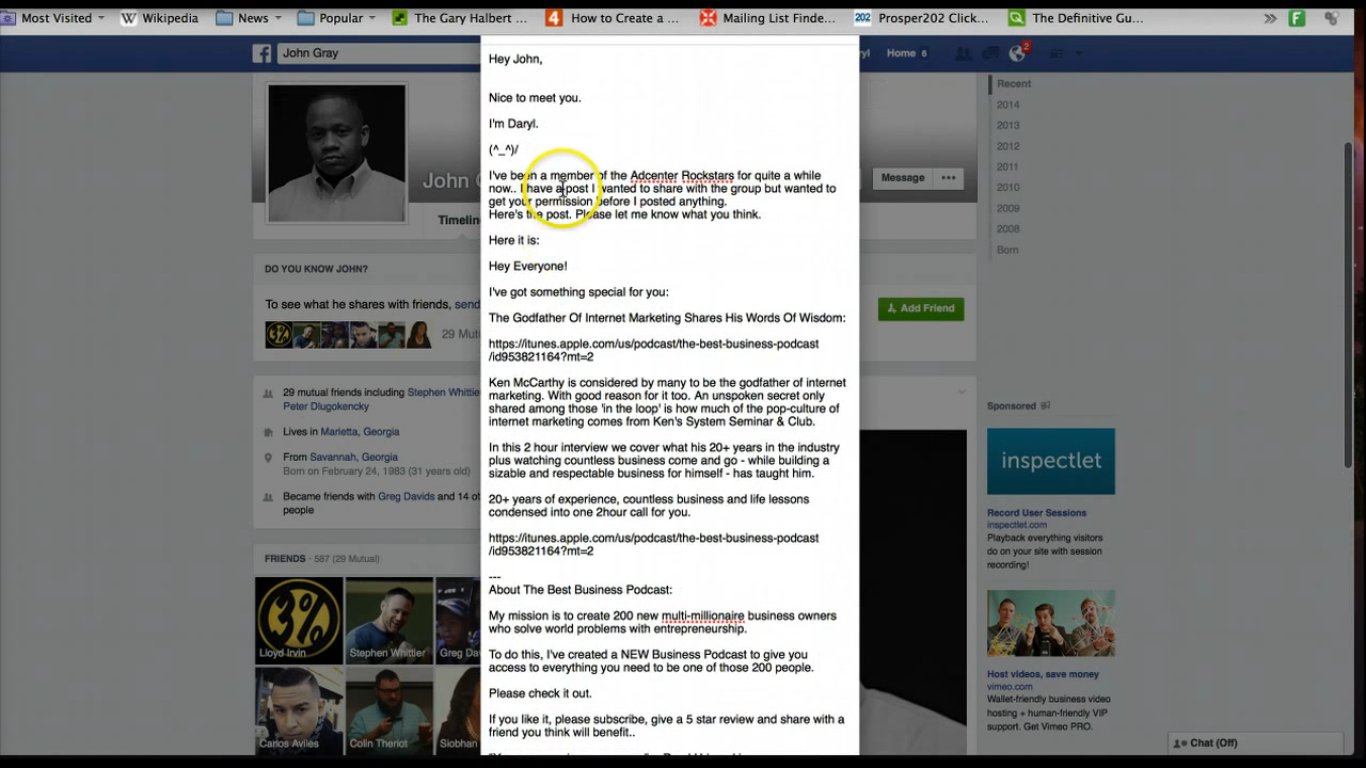 [/content_toggle] [content_toggle style="1″ label="Approval" hide_label="Hide"]
If you have sent a message to an admin and they approve it, you need to make sure to thank them. Thanking the admin will also help to get more engagement on the post as other group members will get notifications about the conversation.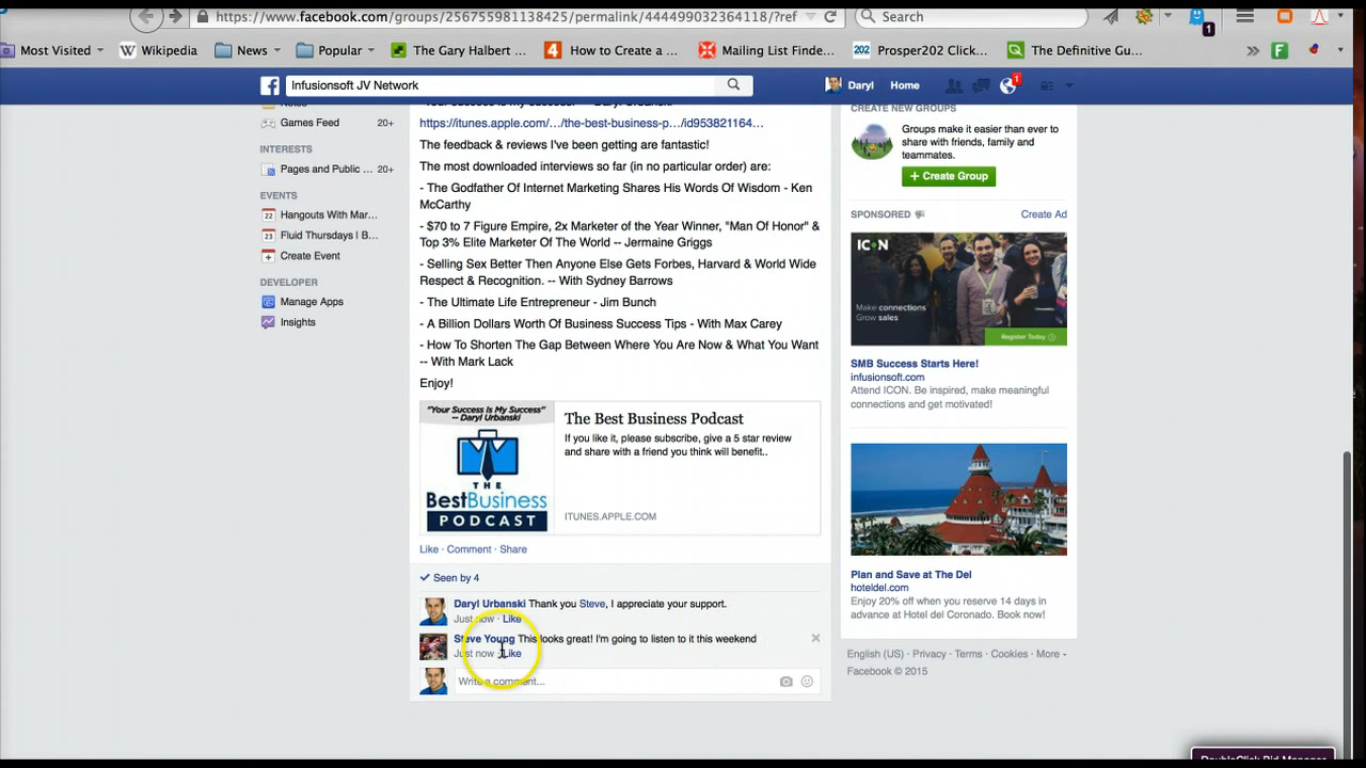 In the  screenshot below we can see great feedback and appreciation from the group admin that permission was asked before just posting. This is very very important since it can get more people interested in the post! We can see that more people in the group have liked this post, which is great, so it would be nice to thank each of them in the comments section of this post. Bumping/ A Bump, is in internet marketing when something gets bumped up in news feed or a thread.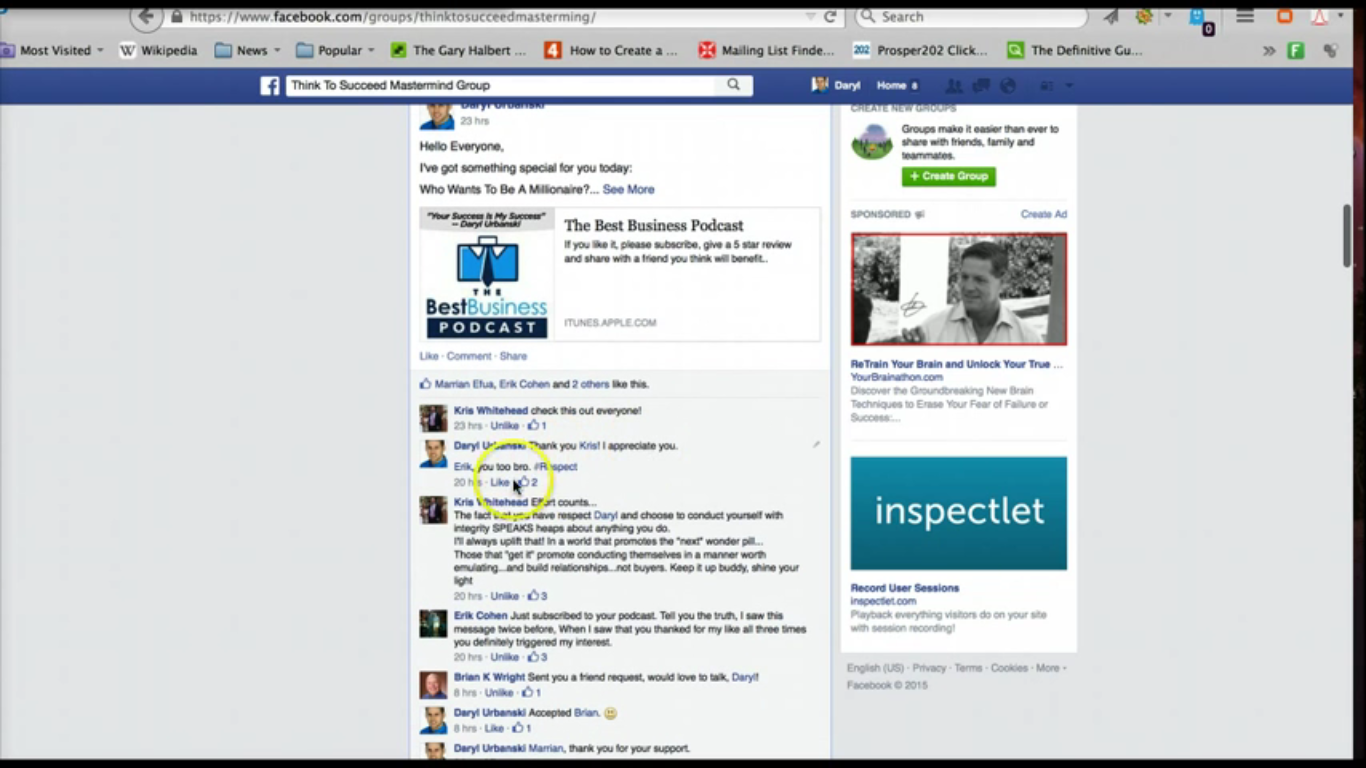 If you come across a group you are not sure about, don't skip it! Make a note for Daryl to look at it.
[/content_toggle] [headline style="2″ font_size="15″ align="center" headline_tag="h2″]
Marketing in Facebook Groups.
[/headline]